Eurasia Regional: Stages of Political Transitions at the Local Level
Discussion date: April 1, April 15, and April 29, 2021
Partner: IRI Georgia
Ongoing social and political movements throughout the Eurasia region over the past 20 years have offered hope that democratic reform would lead to improvements in people's everyday lives. The past two years in particular have witnessed a series of collective movements that have sprung up organically. The Global Assembly's Eurasia regional discussion, organized in partnership with the International Republican Institute (IRI), included three sessions, which focused on the spectrum of engagement from protests to politics and explored ways to institute reform from within government.
In the first discussion, panelists described their journeys of activism. Goharik Tigranyan of the Institute for Public Policy in Armenia began by analyzing the difference between protests in Armenia in 2008 and 2018. She also talked about how her group works to empower youth to impact government policy more effectively. "What my organization is doing is to educate people and give the young students some tools to conduct research, to bring their issues into the policy level…" Shota Digmelashvili, a co-founder of the Shame Movement in Georgia, opined that politics in Georgia now is a zero-sum game and that this needs to change. The panelists also acknowledged that today's movements benefit from technologies and social media. Facebook, Twitter, and TikTok have allowed protestors to stream police brutality, and in some cases such social media posts have protected these protestors.
Building on the first session, participants in the second discussion explored ways street protests can influence government. Haykuhi Harutyunyan of the Corruption Prevention Commission of the Republic of Armenia stated that protests and civic movements are important for pressuring governments and establishing dialogue. Yevgeniy Zhovtis of the Kazakhstan International Bureau for Human Rights and the Rule of Law described how advocacy requires civic groups to be nimble, balancing two different strategic approaches: resistance and engagement. "Depending on the timing and political context, the balance of these two approaches change." Mikheil Kumsishvili, co-founder of the youth movement Gabede (Georgia), highlighted that youth leaders across ten political parties in Georgia have used small, targeted protests to pressure the government, which resulted in incremental change. For example, a series of protests succeeded in focusing the attention of the public and government on the need for a more proportional system for Parliament, and this contributed to today's more proportional Parliament structure over the course of a few elections.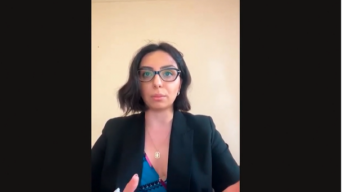 To institute reform after a political opening, panelists in the third discussion argued the importance of including citizens in reform processes at the local and national level. Giorgi Chakvetaze, member of the Tbilisi City Council in Georgia, noted that despite Covid his government office has retained weekly meetings that are livestreamed, and that meeting reports are published in order to maintain transparency. Dimitru Ivanov, Deputy Assistant in the Parliament of Moldova, explained how his activism with youth and party groups led to his election into local government, and surveyed current youth-led initiatives aimed at being more inclusive. He's tried to maintain this inclusive approach while in Parliament: "We are trying to be closer to civil society… It's necessary to consult people to see how they want to implement something, but you may have a totally different approach…[from] civil society and the city council government." Elvira Surabaldieva, former member of parliament in Kyrgyzstan, reminded that all levels of government have to be accessible to citizens, from parliamentarians to city council members.