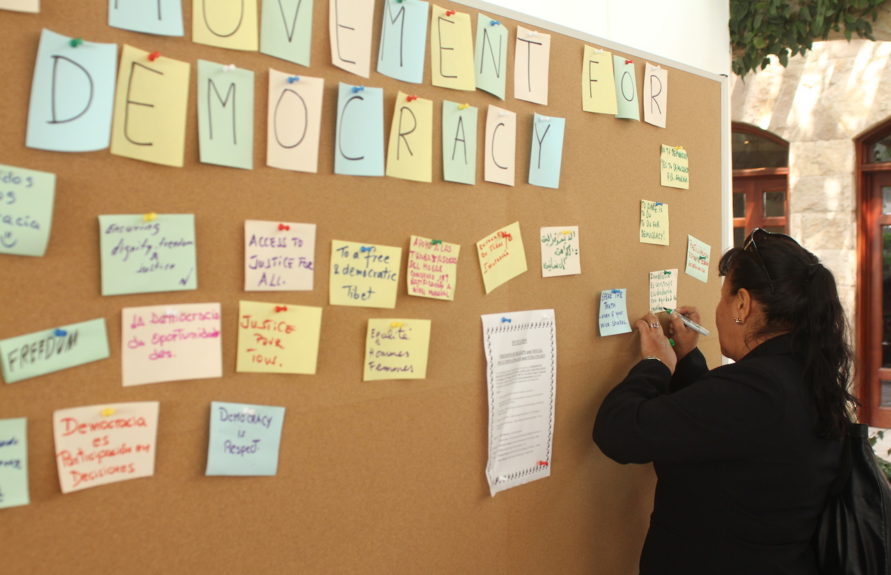 World Movement
Initiatives
As a thought leader and a platform for building practical synergies among democracy activists around the world on particular challenges, the World Movement for Democracy organizes several initiatives  to respond to pressing issues.
The past decade has been marked by the deterioration in global freedoms and the emboldening of authoritarian regimes to undermine democratic ideals at home and abroad. The World Movement and the Steering Committee responded to this deterioration with a statement entitled "A Call for Democratic Renewal," which rallies activists, governments, and citizens to push back against the wave of resurgent authoritarianism.
The Civic Space Initiative (CSI) supports civil society activists facing restrictions on their freedoms by helping them understand their rights and helping the public recognize the positive contribution civil society organizations (CSO) make in their lives.
During political transitions, activists sometimes have an opportunity to "cross over" into government so they can advance democratic reform from within as elected or appointed officials. What do they need to know? How do they prepare themselves for shifting from civil society activism to governance? The World Movement's Crossover Initiative empowers activists who are entering, or have recently entered, government in overcoming challenges they face, by sharing experiences and knowledge.
Launched in 2007, the Defending Civil Society project is an ongoing effort to develop strategies with and build solidarity among activists and groups seeking to reform repressive laws targeting civil society.
The "Faces of Civil Society" film series is intended both to inform the public of the work of civil society around the world and to facilitate discussions among various audiences on the role and impact of civil society on communities.
The World Movement founded the "Hurford Youth Fellowship" because it understands the next generation of democratic leadership plays a crucial role in sustaining and advancing democracy.
Civil society organizations (CSOs) around the world increasingly face restrictions on their right to access to domestic and foreign donor funding. To combat this, the World Movement develops tools and strategies for activists through its "Right to Receive Funding" initiative.
Through the Set Them Free Campaign, the World Movement builds international solidarity with political prisoners, mobilizes the global public to take actions on their behalf, and engages with various stakeholders to achieve their release.
The World Movement is using the "Three-Legged Stool for Democratic Governance" to help build and spotlight sensible relationships between civil society leaders, political leaders, and business leaders.