From October 25-27, 2022, the World Movement for Democracy brought together more than 270 democracy activists, journalists, policymakers, and donors from seventy different countries for the 11th Global Assembly in Taipei, Taiwan. Under the theme "Claiming the Democratic Future: Unifying Voices for a New Frontier" democracy advocates came together to build a shared understanding of today's challenges to democracy, join efforts to counter the growing authoritarian threats, and foster democratic momentum. The Global Assembly was marked by a sense of urgency to strengthen democratic alliances in order to stop the expansion of authoritarian regimes and their sophisticated network of malign actors and enablers.
Through a series of plenary sessions, workshops, fireside chats, and democracy clinics, participants shared innovative strategies and best practices to address challenges to democracy and outlined new agendas to expand civic space and promote democratic values. The Global Assembly also showed support for and solidarity with democracy advocates who are fighting for a free and democratic society in especially difficult circumstances. Assembly participants firmly stated that despite authoritarian attempts to corrode democratic institutions and tarnish human rights, there is no doubt that people in the world want freedom and democracy. Emerging leaders at the Global Assembly presented their articulated vision for a democratic future, and the Global Assembly facilitated intergenerational dialogues to build a sustainable global democracy movement.
To organize the Global Assembly, the World Movement partnered with the Taiwan Foundation for Democracy, Garden of Hope Foundation, Taiwan Tongzhi (LGBTQ+) Hotline Association, Information Operations Research Group (IORG), and Taiwan Youth Association for Democracy.
Democracy Courage Tributes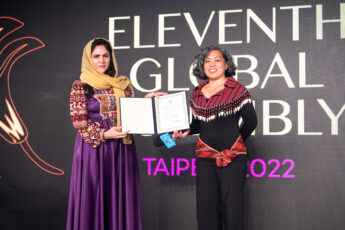 WOMEN-LED HUMAN RIGHTS MOVEMENT IN AFGHANISTAN
Accepted by Fawzia Koofi, former Vice President of the National Assembly.
Since August 2021, the Taliban have rolled back most of Afghanistan's' democratic gains, and women and girls have borne the brunt of the Taliban's repressive policies and actions. Women from diverse groups, such as school teachers, government workers and human rights defenders, have mobilize to defy Taliban violence in the streets of Kabul and other major cities, protesting the regime's draconian laws and policies reversing Afghan women's hard-won democratic rights of the past 20 years.
This tribute shared solidarity with the work of this women-led human rights movement, which has mobilized public support, including from tribal and religious leaders in the country, to pressure the Taliban to allow girls' access to education and women's right to work. The human rights movement represents a changed society in Afghanistan that peacefully resists the Taliban's repression.
Watch Here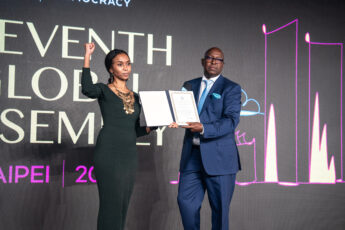 SUDANESE RESISTANCE COMMITTEES
Accepted by Marwa Galaleldin, standing in for Ahmed Shakir of the Sudanese Resistance Committees, who was prevented by the government of Sudan from leaving the country to attend the Global Assembly.
Since December 2018 when street protests erupted throughout the country, Sudanese Resistance Committees have been the backbone of a pro-democracy movement in Sudan. Over the past 4 years, Sudan has experienced two coups d'état and mass violence by the military against civilians. Despite this turmoil, Resistance Committees have organized countless number of peaceful protests against the military regime.
This tribute recognized the innovative tactics that these groups, led by young people, use to encourage citizens to participate in civic space and evolving political processes. These tactics have included public photo exhibitions, movie screenings, and music productions as inclusive ways that the Sudanese people can reclaim civic space in their country.
Watch Here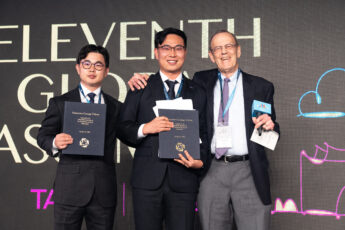 YOUNG NORTH KOREAN DEFECTORS
Accepted by Shiwoo Choi of Now Action & Unity for Human Rights (NAUH) and Daehyeon Park of Woorion (Unity of Bridge).
A new generation of North Korean defectors in South Korea is leading the effort to fight for the freedom of North Korean citizens. Young defectors are overcoming trauma, prejudice, and risks to themselves and their families in order to champion the North Korean human rights movement.
This tribute honored the courage these youth-led groups display in advocating for a democratic future in the world's most isolated country, uncovering human rights abuses and providing North Koreans with much-needed outside information. Their efforts are inspiring many others to sustain the hope that a better tomorrow will come.
Watch Here