The World Movement for Democracy's Tenth Global Assembly saw hundreds of democracy advocates convene in conferences over the course of April to July 2021 to discuss the theme "Towards Successful Transitions: New Opportunities and Emerging Challenges." These meetings were designed to:
Empower civil society actors to make democratic transitions successful; and
Mobilize global solidarity with those in severely restrictive environments.
World Movement Assemblies gather the world's leading experts on democracy movements, civil society activists, scholars, parliamentarians, thought leaders, journalists, and funders to discuss how we can help democracies thrive and grow. As they have since 1999, our Assemblies allow attendees to exchange practical knowledge and innovative approaches that they can use in their work, network with colleagues, and learn from each other.
Although the COVID-19 pandemic made it impossible to organize in-person gatherings, it provided an opportunity to reimagine the Global Assembly and embrace exciting new ways of holding discussions.  This year's Assembly included: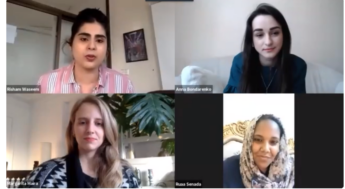 Six national-level discussions in countries such as Mali, Sudan, Tunisia, and Ukraine;
Five regional virtual dialogues in Africa, Asia, Eurasia, Europe, and Latin America; and
A virtual Global Exchange (July 7 & 8, 2021).
These activities were facilitated by the World Movement Secretariat and a diverse set of World Movement participants. Through this locally driven approach, the World Movement aimed to make the Global Assembly more dynamic and connected to our work on the ground.
Throughout the many events of the Tenth Global Assembly, we examined our perennial topics of focus:
Transitions: In recent years many countries have successfully transitioned from unrepresentative forms of government into democracies. Yet many of these transitions remain fragile. By exchanging lessons learned, the Assembly helped civil society activists develop strategies to overcome challenges and to ensure successful transitions.
Solidarity: Solidarity is at the core of what the World Movement for Democracy is. The voices of democracy activists from many parts of the world are amplified through the World Movement to mobilize unflinching support for those under threat. At the Assembly, democracy activists around the world expressed their solidarity with each other collectively.
This report on the Tenth Global Assembly offers highlights of the many discussions that participants engaged in, short videos about participants' work, and even artistic performances.