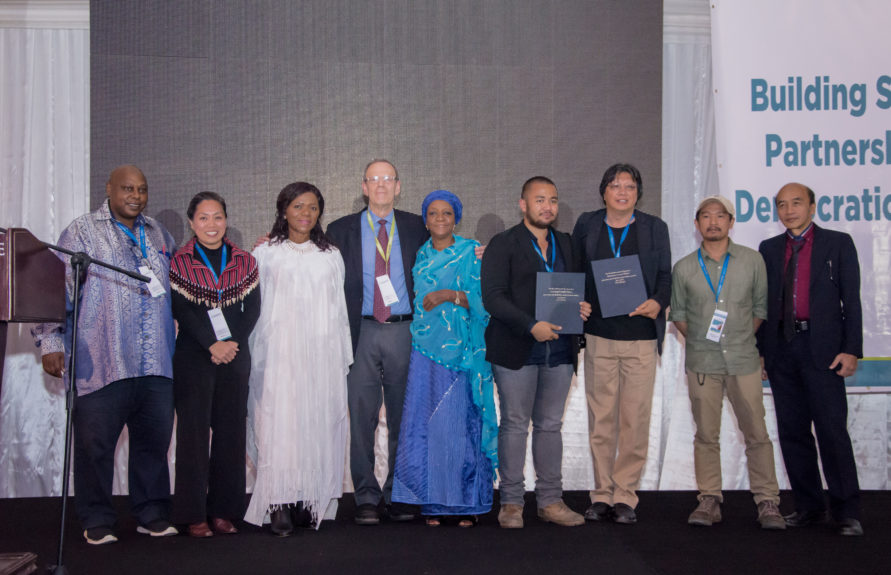 Democracy Courage Tributes
Without global solidarity, the threats to democracy can seem impossible to solve. To express and build solidarity, the World Movement for Democracy and the Hurford Foundation present the Democracy Courage Tributes to give special recognition to the extraordinary efforts of groups and movements working under particularly diffi­cult circumstances. Together, we remind one another that we are not alone in our struggles.  
The Democracy Courage Tributes are a highlight of each Global Assembly, and presented at the John B. Hurford Memorial Dinner, which are sponsored by the Hurford Foundation. The dinner was named for the late John Boyce Hurford (1938-2000), an internationalist and philanthropist who played an important role in helping to conceptualize and bring into being the World Movement for Democracy.
TENTH ASSEMBLY RECIPIENTS
Democracy Courage Tribute to Independent Journalists in the Middle East and North Africa
Much of the Middle East and North Africa region has become increasingly hostile to the idea of a free press, and Reporters Without Borders ranked the region at the bottom of all regions in the world in its 2021 World Press Freedom Index. The World Movement honored the courageous work of reporters who remained committed to the values of a free press despite persecution and great personal risk. In this Tribute, the World Movement looked at the problems facing reporters through three lenses: "Those who paid the ultimate price;" "Those who lost their freedom;" and "Those who continue to struggle."
The Tribute saluted:
Hisham al Hashimi, who was a prominent advocate for democratic reform and freedom of speech in Iraq and appeared frequently in the media. He was assassinated in Baghdad in 2020.
Esraa Abdelfattah, who is an Egyptian female human rights defender and journalist at the al-Tahrir newspaper. The Egyptian government jailed her in October 2019 on spurious charges and tortured her in prison. She was released soon after the Tribute presentation on July 18, 2021.
The Syrian Center for Media and Freedom of Expression (SCM), which is a nonprofit civil society organization working to protect freedom of speech and reporting in Syria. Syria's Bashar al-Assad regime has shut down their offices many times in attempts to halt their reporting on the country.
The Tribute was accompanied by remarks from Farhad Alaadin of the Iraq Advisory Council and Sherif Mansour of the Committee to Protect Journalists (Egypt).
Democracy Courage Tribute to Advocates for Democracy in East Turkistan, Hong Kong, and Tibet
The World Movement for Democracy presented a Democracy Courage Tribute to "Advocates for Democracy in East Turkistan, Hong Kong, and Tibet Working to Build Solidarity and Resilience" against China's authoritarian measures. In East Turkistan and Tibet, China has openly moved to erase regional cultures and violated the civil rights of the indigenous ethnic groups on a massive scale. In the past years, it's been reported that up to 1.8 million Uyghurs and other Muslim minorities are in 380 "political education" camps in East Turkistan. Similarly, Tibet's people have for generations faced government policies of imprisonment and use of force to limit freedom of religion, speech, or movement. Hong Kong, which had been a comparatively open society, increasingly experiences a searing restriction of civic freedoms with the National Security law of 2020.
In response to these severely restrictive policies of the Chinese Community Party (CCP), the large exile communities from these three places have increasingly worked together. They support each other's efforts to report abuses, amplify democratic voices, and counter the 'CCP's disinformation campaigns. The World Movement bestowed a Democracy Courage Award shared by groups from each of these communities who are inspiring examples of this work: Students for a Free Tibet, The Campaign for Uyghurs, and Hong Kong Watch.
In his remarks accepting the Tribute for his group, Dorjee Tseten, Executive Director of Students for a Free Tibet, said "We are building an unprecedented alliance of nations and people who are committed to struggle for freedom and democracy. Tibetans, Uyghurs, Hong Kongers, Taiwanese, Mongolians, Chinese democracy activists, and other activists around the world are coming together to take non-violent actions to resist" authoritarianism.