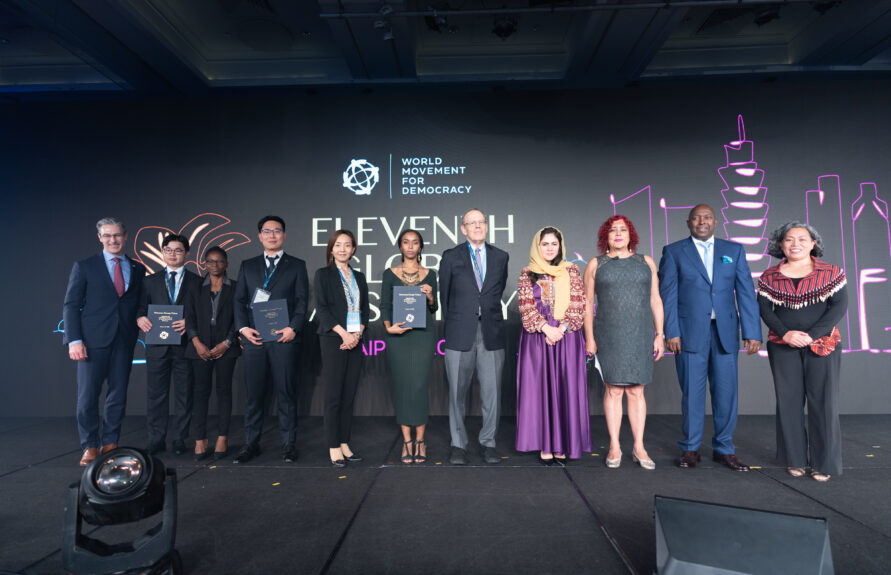 Democracy Courage Tributes
Without global solidarity, the threats to democracy can seem impossible to solve. To express and build solidarity, the World Movement for Democracy and the Hurford Foundation present the Democracy Courage Tributes to give special recognition to the extraordinary efforts of groups and movements working under particularly diffi­cult circumstances. Together, we remind one another that we are not alone in our struggles.  
The Democracy Courage Tributes are a highlight of each Global Assembly, and presented at the John B. Hurford Memorial Dinner, which are sponsored by the Hurford Foundation. The dinner was named for the late John Boyce Hurford (1938-2000), an internationalist and philanthropist who played an important role in helping to conceptualize and bring into being the World Movement for Democracy.
Eleventh Assembly Recipients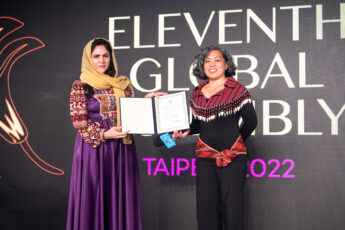 WOMEN-LED HUMAN RIGHTS MOVEMENT IN AFGHANISTAN
Accepted by Fawzia Koofi, former Vice President of the National Assembly.
Since August 2021, the Taliban have rolled back most of Afghanistan's' democratic gains, and women and girls have borne the brunt of the Taliban's repressive policies and actions. Women from diverse groups, such as schoolteachers, government workers and human rights defenders, have mobilize to defy Taliban violence in the streets of Kabul and other major cities, protesting the regime's draconian laws and policies reversing Afghan women's hard-won democratic rights of the past 20 years.
This tribute shared solidarity with the work of this women-led human rights movement, which has mobilized public support, including from tribal and religious leaders in the country, to pressure the Taliban to allow girls' access to education and women's right to work. The human rights movement represents a changed society in Afghanistan that peacefully resists the Taliban's repression.
Watch Here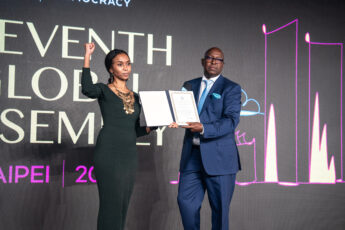 SUDANESE RESISTANCE COMMITTEES
Accepted by Marwa Galaleldin, standing in for Ahmed Shakir of the Sudanese Resistance Committees, who was prevented by the government of Sudan from leaving the country to attend the Global Assembly.
Since December 2018 when street protests erupted throughout the country, Sudanese Resistance Committees have been the backbone of a pro-democracy movement in Sudan. Over the past 4 years, Sudan has experienced two coups d'état and mass violence by the military against civilians. Despite this turmoil, Resistance Committees have organized countless number of peaceful protests against the military regime.
This tribute recognized the innovative tactics that these groups, led by young people, use to encourage citizens to participate in civic space and evolving political processes. These tactics have included public photo exhibitions, movie screenings, and music productions as inclusive ways that the Sudanese people can reclaim civic space in their country.
Watch Here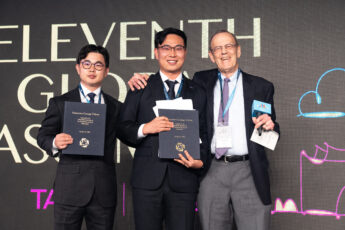 YOUNG NORTH KOREAN DEFECTORS
Accepted by Shiwoo Choi of Now Action & Unity for Human Rights (NAUH) and Daehyeon Park of Woorion (Unity of Bridge).
A new generation of North Korean defectors in South Korea is leading the effort to fight for the freedom of North Korean citizens. Young defectors are overcoming trauma, prejudice, and risks to themselves and their families in order to champion the North Korean human rights movement.
This tribute honored the courage these youth-led groups display in advocating for a democratic future in the world's most isolated country, uncovering human rights abuses and providing North Koreans with much-needed outside information. Their efforts are inspiring many others to sustain the hope that a better tomorrow will come.
Watch Here
TENTH ASSEMBLY RECIPIENTS
Democracy Courage Tribute to Independent Journalists in the Middle East and North Africa
Much of the Middle East and North Africa region has become increasingly hostile to the idea of a free press, and Reporters Without Borders ranked the region at the bottom of all regions in the world in its 2021 World Press Freedom Index. The World Movement honored the courageous work of reporters who remained committed to the values of a free press despite persecution and great personal risk. In this Tribute, the World Movement looked at the problems facing reporters through three lenses: "Those who paid the ultimate price;" "Those who lost their freedom;" and "Those who continue to struggle."
The Tribute saluted:
Hisham al Hashimi, who was a prominent advocate for democratic reform and freedom of speech in Iraq and appeared frequently in the media. He was assassinated in Baghdad in 2020.
Esraa Abdelfattah, who is an Egyptian female human rights defender and journalist at the al-Tahrir newspaper. The Egyptian government jailed her in October 2019 on spurious charges and tortured her in prison. She was released soon after the Tribute presentation on July 18, 2021.
The Syrian Center for Media and Freedom of Expression (SCM), which is a nonprofit civil society organization working to protect freedom of speech and reporting in Syria. Syria's Bashar al-Assad regime has shut down their offices many times in attempts to halt their reporting on the country.
The Tribute was accompanied by remarks from Farhad Alaadin of the Iraq Advisory Council and Sherif Mansour of the Committee to Protect Journalists (Egypt).
Democracy Courage Tribute to Advocates for Democracy in East Turkistan, Hong Kong, and Tibet
The World Movement for Democracy presented a Democracy Courage Tribute to "Advocates for Democracy in East Turkistan, Hong Kong, and Tibet Working to Build Solidarity and Resilience" against China's authoritarian measures. In East Turkistan and Tibet, China has openly moved to erase regional cultures and violated the civil rights of the indigenous ethnic groups on a massive scale. In the past years, it's been reported that up to 1.8 million Uyghurs and other Muslim minorities are in 380 "political education" camps in East Turkistan. Similarly, Tibet's people have for generations faced government policies of imprisonment and use of force to limit freedom of religion, speech, or movement. Hong Kong, which had been a comparatively open society, increasingly experiences a searing restriction of civic freedoms with the National Security law of 2020.
In response to these severely restrictive policies of the Chinese Community Party (CCP), the large exile communities from these three places have increasingly worked together. They support each other's efforts to report abuses, amplify democratic voices, and counter the 'CCP's disinformation campaigns. The World Movement bestowed a Democracy Courage Award shared by groups from each of these communities who are inspiring examples of this work: Students for a Free Tibet, The Campaign for Uyghurs, and Hong Kong Watch.
In his remarks accepting the Tribute for his group, Dorjee Tseten, Executive Director of Students for a Free Tibet, said "We are building an unprecedented alliance of nations and people who are committed to struggle for freedom and democracy. Tibetans, Uyghurs, Hong Kongers, Taiwanese, Mongolians, Chinese democracy activists, and other activists around the world are coming together to take non-violent actions to resist" authoritarianism.
Democracy Courage Tribute to Artists Fighting for Freedom of Expression in Cuba–The San Isidro Movement
The World Movement for Democracy gave a Democracy Courage Tribute to the Movimiento San Isidro (MSI) and Cuba's artistic community as they struggle against heightened restrictions that the Cuban regime has imposed on free speech and artistic expression. In 2018 Cuba's government passed Decree 349, which added new limits on the rights of artistic expression and speech. MSI, formed in reaction to that law, has since become an inspiring example of how "artivism" can be an effective tool against repressive regimes. It encourages artists and intellectuals, as well as Cubans from all walks of life, to stand up against the attempts by their government to silence their voices.
One of the founders and leaders of MSI, Luis Manuel Otero Alcantara, who has been jailed over 70 times for his artivism and protest activities, spoke about the group's commitment to free speech as he accepted the award on the MSI's behalf. Alcantara declared, "We want there to be a space for everyone, for all people, for all points of view, for all Cubans."
Democracy Courage Tribute to Independent and Pro-democracy Journalists in Burma
With a Democracy Courage Tribute, the World Movement for Democracy expressed its solidarity with independent and pro-democracy journalists working in Burma. As Burma's military junta has committed extensive violence against citizens who have peacefully protested its coup since February 1, 2021, the world has seen an outpouring of support for Burma's protesters. Without news reports by independent media and pro-democracy citizen journalists, the military junta's brutal response to peaceful protesters and non-violent resistance by civils society would have kept largely unknown. As Than Win Htut, member of the Democratic Voice of Burma (DVB), explained that since the day one of the coup, the military junta has used internet shutdown as a tool to block the information flow. The World Movement salutes the bravery of these journalists who have risked their lives in support of free speech and democracy.
Ninth Assembly Recipients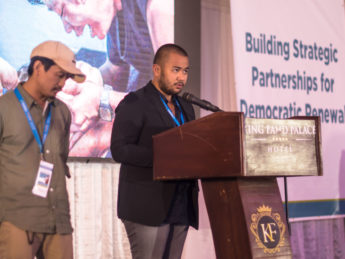 Nightwatchers Photojournalists in the Philippines
Accepted by Raffy Lerma and Ezra Acayan of the Nightwatchers.
The Nightwatchers are a group of photojournalists take the "night shift" to capture and publish images which bring the disturbing reality of Duterte's war on drugs to light.
With this Tribute, the World Movement honors the work of the Nightwatchers who operate at great personal risk in an environment where the president has endorsed the killing of activists who "obstruct justice."
Watch Here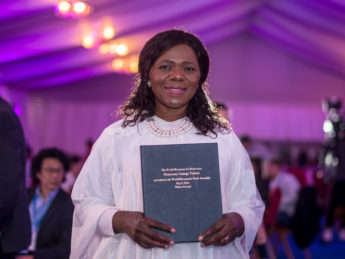 Advocates for the Rule of Law in Africa
Accepted by Thuli Madonsela, former Public Protector of South Africa (2009-2016).
Over the past year, advocates for the rule of law in South Africa, Kenya, and Liberia have displayed true independence in holding fellow government leaders accountable and protecting the integrity of democracy.
With this Tribute, the World Movement wishes to recognize both the engaged members of civil society and the courageous defenders of democracy within government institutions who remain committed to transparency, integrity, and accountability in Africa.
Watch Here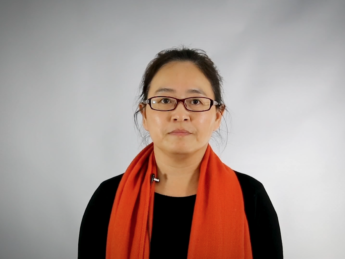 Human Rights Lawyers in China
Accepted by Jin Bianling, the wife of Jiang Tianyong, a political prisoner who was detained and forcibly disappeared by Chinese authorities.
On July 9, 2015, Chinese state security forces arrested, detained, disappeared, and forcibly questioned more than 300 human rights lawyers and legal activists in a widespread repression which would later be known as the "709" crackdown—one of the largest coordinated suppressions of human rights defenders in decades.
With this Tribute, the World Movement remembers and honors the resilient human rights lawyers of China who defend others at great personal risk.
Watch Here