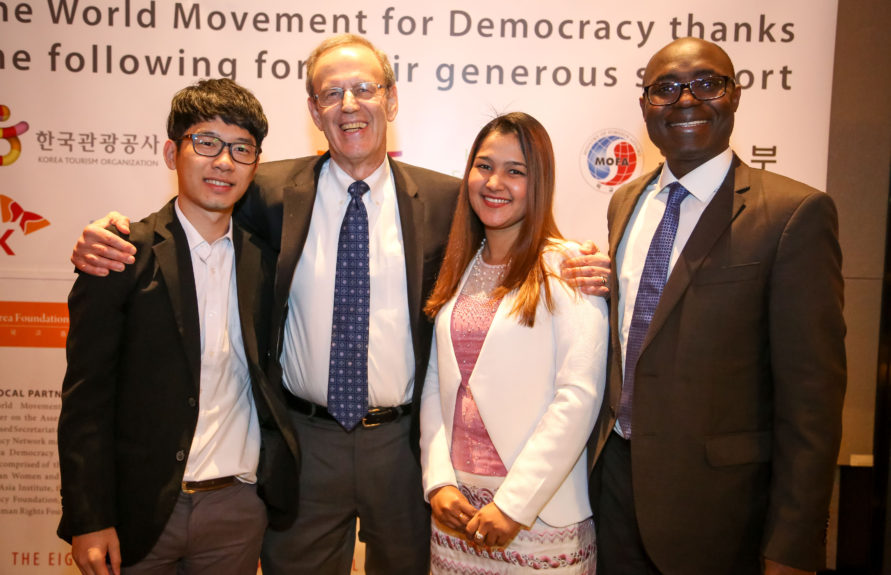 Democracy Courage Tributes
Without global solidarity, the threats to democracy can seem impossible to solve. To express and build solidarity, the World Movement for Democracy and the Hurford Foundation present the Democracy Courage Tributes to give special recognition to the extraordinary efforts of groups and movements working under particularly diffi­cult circumstances. Together, we remind one another that we are not alone in our struggles.  
The Democracy Courage Tributes are a highlight of each Global Assembly, and presented at the John B. Hurford Memorial Dinner, which are sponsored by the Hurford Foundation. The dinner was named for the late John Boyce Hurford (1938-2000), an internationalist and philanthropist who played an important role in helping to conceptualize and bring into being the World Movement for Democracy.
Eighth Assembly Recipients
The Umbrella Movement
Accepted by Nathan Law Kwun-chun, secretary general of the Hong Kong Federation of Students.
The Umbrella Movement's bold call in the fall of 2014 for a free and fair election process to select the city's leaders brought thousands into the streets to dem­onstrate peacefully in Hong Kong. 
Advocates for the Rohingya People
Accepted by Wai Wai Nu, founder of the Women's Peace Network in Burma.
Groups such as the Women Peace Network have worked courageously with and on behalf of the Rohingya people, building their political awareness and calling international attention to the systemic discrimination and human rights abuses they face.
Investigative Journalists in Africa
Accepted by Rafael Marques de Morais, renowned Angolan investigative journalist and founder of Maka Angola.
In Africa's hostile environ­ment towards journalists, a number of brave individuals have managed to break through the bonds of censorship and corrupt media practices to score victories for freedom of the press.