Building a Team to Fight Corruption in Ukraine
September 24, 2020
Podcast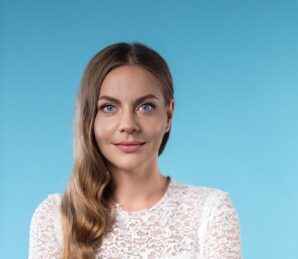 Listen to and download more of the podcast series here.
Olena Sotnik discussed the importance of having goals and understanding the skills to build a team to succeed. She highlighted qualities she looked for, in order to fight corruption and build a better future in Ukraine.
Olena Sotnik is a Ukrainian politician, lawyer, and human rights defender. As a member of the Ukrainian Parliament, she is a well-known legislator and public policy maker in areas such as rule of law, judicial system reform, anticorruption, and youth policy. Before entering into politics, she worked as a freelance reporter for the Ukrainian newspaper and a lawyer and partner at the Lawyers Company. Olena is a human rights activist and member of the Gratis Legal Aid Centre for victims of the events at the Independence Square in Kyiv.
*The song "Get Involved," was created and produced by the Music as a Messenger for Democracy working group.
**The views expressed in this post represent the opinions and analysis of the interviewee and do not necessarily reflect those of the World Movement for Democracy or its staff.
Related