Remembering Chito Gascon
October 13, 2021
News | Statement
"An empowered citizen, when confronted by tyranny, will choose freedom and will be prepared to sacrifice in unison with others for a noble calling."
— Chito Gascon, from his opening remarks at the Eighth Global Assembly of the World Movement in Seoul, South Korea, in 2015.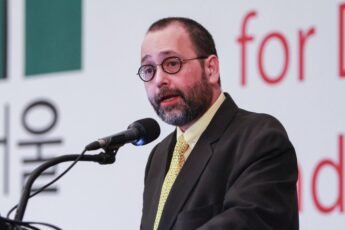 The World Movement for Democracy is saddened to announce the passing of Jose Luis Martin "Chito" Gascon, a passionate Filipino community organizer, lawyer, and former Chair of the Philippines Commission on Human Rights. He began his lifetime of service to the Filipino people as a student leader against the dictatorship of Ferdinand Marcos, and went on to work as the youngest delegate of the constitutional commission that crafted the country's 1986 Freedom Constitution. Gascon was a key founder of the Asia Democracy Network and attended several World Movement assemblies, delivering an opening speech at our Seoul Assembly in 2015.
Remembering Gascon, Tanya Hamada, a member of the World Movement's Steering Committee from The Philippines, said, "The Philippines has lost one of democracy's most ardent and optimistic champions. We will remember, celebrate, and continue Chito's work."
Carl Gershman, former member of the World Movement's Steering Committee and former President of the National Endowment for Democracy, has issued the following statement about Gascon:
"Chito was a brilliant and dedicated democracy activist, a gentle personality with a tough inner core and immense courage. He will be sorely missed by countless friends, myself included, and by people around the world who are fighting for democracy and human dignity."
The World Movement sends its deepest sympathies to Gascon's family. Gascon was an inspiration to many of us, and his work in advocacy for human rights is immeasurable. He will be greatly missed.
Related