DemocracyALERT: Independent Labor Rights Activist Threatened by the Cuban Government
December 17, 2021
Alerts | News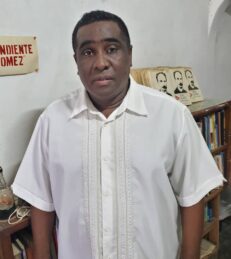 The World Movement for Democracy is alarmed by the ongoing harassment and recent threat of legal charges by the Cuban government against Ivan Hernández Carrillo, an independent labor and human rights activist in Cuba. The World Movement calls on the Cuban government to immediately drop its threat of charges against Hernández Carrillo, end arbitrary harassment, and respect Cuban citizens' rights to freedom of peaceful assembly and association. Following nationwide protests that began on July 11, 2021, the Cuban government has intensified harassment of Hernández Carrillo, as well as fellow leaders of the Independent Trade Union Association of Cuba ('ASIC' for its Spanish language acronym). He currently serves as the Secretary General of ASIC.
On November 30, Hernández Carrillo was visited by State Security Agents at his home. During his subsequent interrogation, State Security Agents mentioned that Hernández Carrillo could be charged with being a 'mercenary.' The basis of this charge is a result of Hernandez Carrillo creating a list of detainees from the protests on July 11 seeking humanitarian aid for them. Per the Cuban penal code, this charge could carry penalties of 10 to 20 years in prison, or even a death sentence. The US State Department called the mercenary charge "a spurious legal tool used to silence dissent," in its recent tweet in support of Hernández Carrillo.
Hernández Carrillo has repeatedly been a target of harassment by the Cuban government. In April and May 2021, his house was surveilled 24 hours a day by state security agents. He is routinely threatened with incarceration and receives regular death threats for his pro-democracy activities. In March 2003, Hernández Carrillo was part of the "Group of 75" arrested as part of the Black Spring, a widespread government crackdown on writers and dissidents. He served eight years of the 25 he was sentenced to, and was ultimately released in February 2011.
The World Movement expresses its solidarity with Ivan Hernández Carrillo. The World Movement also joins, and asks others to join, international voices in condemning the harassment of Hernández Carrillo and his fellow colleagues advocating for labor rights in Cuba.
Join us in solidarity by sharing this Alert with your networks on Facebook and Twitter.
---
Region:
Latin America / Caribbean
|
Topic:
Freedom of Association, Human Rights
Related