The World Movement for Democracy Welcomes New Members of the Steering Committee
October 17, 2023
Statement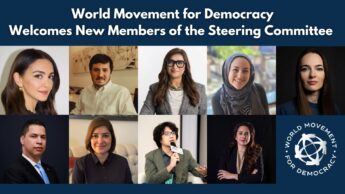 Nine leading democracy activists now join the World Movement for Democracy's Steering Committee to help mobilize a global community of action. The Steering Committee welcomes Nazanin Boniadi of the United Kingdom/Iran, Francisco Brito Cruz of Brazil, Nighat Dad of Pakistan, Mai El-Sadany of the United States/Egypt, Oleksandra Matviychuk of Ukraine, Jatzel Roman of the Dominican Republic, Mariam Safi of Afghanistan, Puma Shen of Taiwan, and Berta Valle of Nicaragua, who will join its existing 11 members.
"I am so delighted to work along with these new members as we position the World Movement to tackle the 21st Century challenges to democracy and to become a dynamic force to inspire democratic forces within our societies," says Maria Ressa, Chairperson of the World Movement's Steering Committee. "They are inspirational leaders, championing the defense and advancement of democracy on the frontline from Kyiv to Sao Paulo, Kabul to Taipei."
The World Movement's Steering Committee is made up of approximately 20 individuals who represent civil society, political society, independent media, and academia from around the globe. Its members bring multidisciplinary insight into the World Movement's work and provide the World Movement Secretariat staff with general guidance for the World Movement's strategic direction and implementation of its strategy.
In welcoming them, the World Movement's Director, Ryota Jonen, reminds that the World Movement is preparing to celebrate its 25th anniversary next year and launch its new vision to meet today's challenges and advance democracy around the world. "These new members will not only bring new and dynamic ideas and perspectives to the World Movement, but also share expertise on today's critical issues: digital technology, human rights advocacy, and political leadership, with our global community of action."
About the World Movement for Democracy
The World Movement for Democracy, launched in 1999, is a global network of democrats who cooperate in the promotion of democracy. The Washington, DC-based National Endowment for Democracy serves as the World Movement Secretariat. For more information, please visit the World Movement for Democracy's website and connect on Facebook, X, and Instagram.