Maria Ressa – Chair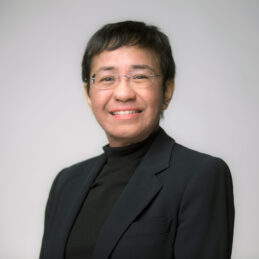 Maria Ressa, co-founder and CEO of Rappler and 2021 Nobel Peace Prize winner, became chairperson of the World Movement for Democracy Steering Committee in 2022. Rappler is the top digital news site leading the fight for press freedom in the Philippines. Maria's courage and work on disinformation and 'fake news' culminated in being awarded the 2021 Nobel Peace Prize in recognition of her "efforts to safeguard freedom of expression, which is a precondition for democracy and lasting peace." Her numerous awards include being named Time's 2018 Person of the Year and listed among its 100 Most Influential People of 2019.
Maria advises organizations and corporations on corporate governance, values, and strategy. Her experience as a journalist and an entrepreneur in the digital world makes her a sought-after keynote speaker and panelist.
A journalist for over 36 years, Maria has been arrested on 10 charges related to exposing the Duterte government's corrupt practices and was convicted of cyber-libel in June. She is out on bail pending her appeal but true to form, Ressa, vows to keep fighting.
Steering Committee