Participant Story: Goma Devi Bastola
February 26, 2019
Network Update
Originally published on Facebook.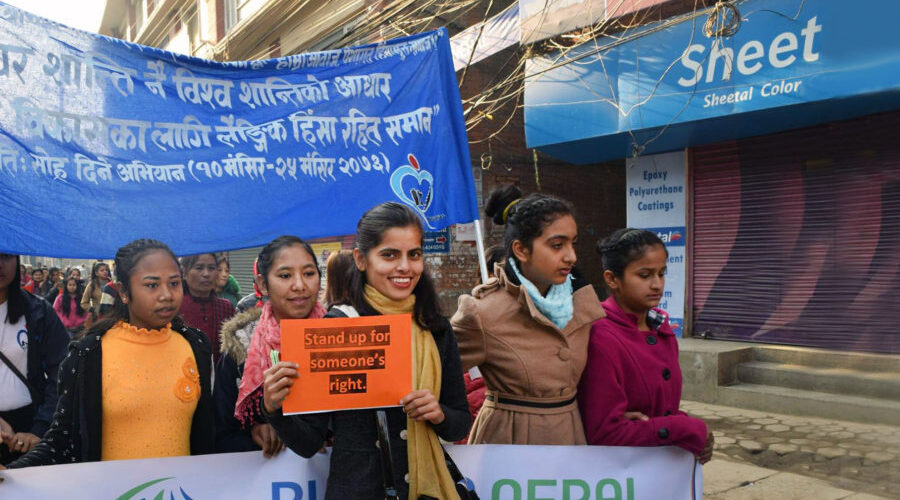 Today we are celebrating the 20th Anniversary of the World Movement for Democracy (WMD), My involvement with the World Movement for Democracy began in June 2015 when I was invited to the Hurford Youth Fellowship program as a Hurford Youth Fellow.
My fellowship at the National Endowment for Democracy/ World Movement for Democracy (WMD) creates a good space of opportunity for me and my organization. I not only make my leadership capacity bold and strong but also enable me to network and link with like minded organizations in United States and also in other countries.
I have made some presentations with NED and Women Thrive during my fellowship, which supports me to create new interest in other organizations and individuals to support our work with rural young girls, women and children to educate, increase awareness of their rights, and empower and train them. I also had the chance to speak with FHI360 annual summit in June 16th 2016 as a youth panelist which an incredible great opportunity for me to further link and build my network.
I have contributed to an online discussion with other international women right activists on: Civic Education and Rural Women's Political Participation, with case studies from Nepal, Zimbabwe, Afghanistan, and Pakistan. This has proved helpful for me in writing the training manual on Civic Education and Rural Women's Political Participation.
During my fellowship I also got chance to make my first delegation to the 60th Commission on the Status of Women (CSW 60) at the United Nations. Undoubtedly, the best part about my time at the CSW was the incredible people that I met. I have gained so much knowledge, so many ideas and so much inspiration. I met many UN agency representatives with tremendous working experiences on women and young girls' issues. It was wonderful to meet the other women's and young girl activist delegates from all over the World. Talking with them made me realize how extremely dedicated they are to women's and girls' rights. I participated in an official events sponsored by country missions and UN agencies on several matters, including empowering women in politics, empowering young girls and women in leadership and capacity building, Women in power and decision making. I have explored issues such as how to promote girls access to education, ending child marriage, and ending all forms of violence and discrimination against women.
This was an extremely great experience for me and also a good opportunity to participate in women's Network for Human Rights workshop in Lebanon during my fellowship here in NED. The workshop was arranged by the Rafto Foundation for Human Rights and the Gulf Center for Human Rights (GCHR). I was the representative from Rural Women's Network Nepal (RUWON Nepal) and World Youth Movement for democracy (WYMD). I have got to meet incredible women and human rights young activist from different countries from MENA and Southeast Asia. During the time period of 11 days' workshop we got different ideas and knowledge about physical security and digital security, which is extremely important for us with our work in the field of human rights in different political, social and geographical backgrounds all over the world. I also have met many organization representatives during my stay in Lebanon, such as representative from RAFTO Foundation, Gulf Center, UN Women, Empower Women, Global Fund for Women etc.
I want to thank to National Endowment for Democracy, NED whole team, World Youth Movement for Democracy, WYMD Team and Hurford Foundation for this great opportunity for me. During this 20th anniversary celebration of the WMD, I would like to honor great wishes of brilliant achievement in its continuing endeavors on the global space to spread democracy and ensure a free world. Together we can change the world.
Goma Devi Bastola
Member of WMD from Nepal
---
---
Region:
Africa
|
Topic:
Economic Development & Democracy, Human Rights, NGO Strengthening, Women, Youth