Participant Story: Glanis Changachirere
February 25, 2019
Network Update
Originally posted on her blog here.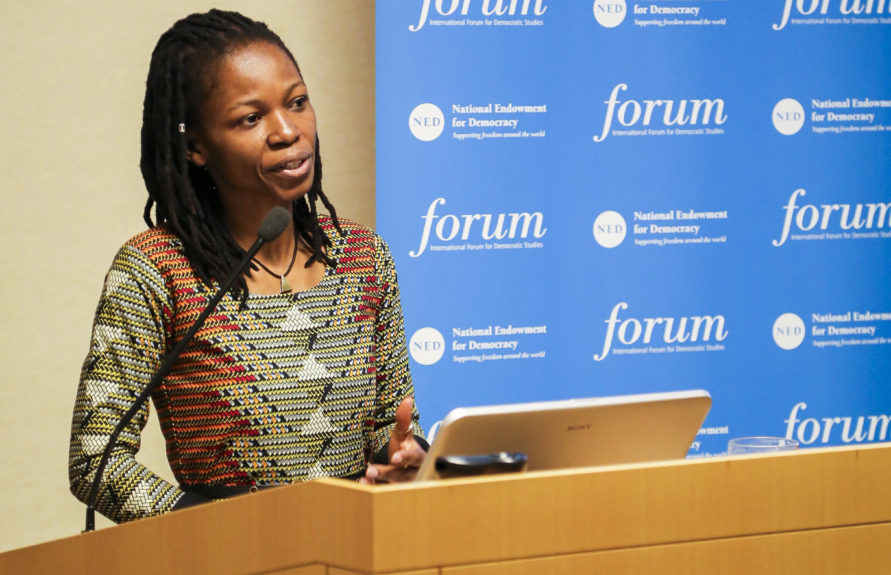 The power of global movement building: My key reflections within the World Movement for Democracy 
Introduction
There is an old adage that suggests 'young people are leaders of the future and not the present'. I have always contested that and continue to argue that young people are leaders of both the present and the future. The notion that young people should retain 'only' the right to future leadership is ill-conceived and turns a blind eye to the vast knowledge, skills and energy young people possess in the present.  We owe a lot to such concepts as democracy that have pushed the rights of youth and women on the global agenda. As a young woman, I have had an opportunity to lead in the present, and believe that if the world harnesses the vast and untapped knowledge, skills and energy of the young women and men out there, then democracy stands a chance in the face of its all too apparent decline and the current authoritarian resurgence. Being a  Steering Committee Member of the World Movement for Democracy allowed me to witness the richness that comes with spaces and movements that embrace new ideas and new energies from young people, and the importance of sharing that within and across countries in the advancement of democracy around the world.
This reflection, is a tribute to the World Movement for Democracy on its 20th anniversary of Promoting Democracy around the World. I believe that by sharing my experience, young women and men around the world will be inspired and act to join movements that are promoting democracy in the world today.
Getting started
My leadership journey begins with Institute for Young Women Development (IYWD), a feminist organisation I work with, to promote the democratic participation of young women. The journey certainly started earlier than that. However for the purposes of this reflection, I will focus on getting started with IYWD and World Movement for Democracy.
My journey with the World Movement for Democracy started in 2012 when I participated in the Cape to Cairo Youth Conference convened by the World Youth Movement for Democracy (WYMD) in South Africa. I met with young activists from other parts of Africa, at a time when young people were at the front of attempts to foster democratic transitions in Tunisia and Egypt. I met with young activists from as far afield as South America and Asia. All in all, we were a movement of committed and inspiring young, female and male activists who up to this day are still putting their lives on the line in a world that is now in an all too apparent democratic slide-back. Despite the geographical distances between our countries, we connected immediately. Our desires and visions to see a democratic world aligned. As an activist who has been in the struggle for some time, I had met yet another sign post in the struggle for democracy.
After the conference, the Institute for Young Women Development collaborated with Un Mundo Sin Mordaza from Venezuela on a campaign for a 'World without censorship for young women's participation'. As young women, we were stripping down the emblems of patriarchy, and challenging autocratic leaders who were silencing our voices through media repression.
Expanding our network
Over the years, as the relationship of IYWD and the WMD continued to grow, our network of young female democrats whose vision is to see democracy at home and around the world also grew. Our network grew both in Zimbabwe and beyond. We worked with partners in many parts of the world including  Crossroads International in Nepal,  Naymote  in Liberia and Youngsters Foundation in  Nigeria.
International Honour
In 2013, the grassroots efforts of IYWD to promote democratic participation of young women and our enriching collaborations received an international accolade. We were honoured by the National Endowment for Democracy, a democracy supporting organisation based in Washington DC, United States of America. I received this award on behalf of our movement,   30 Under 30 Democracy Award  together with three other young women activists from Russia, Pakistan, and Cuba.
Telling the IYWD Story:  Girl Child 
Much of the human rights work and mobilisation for democratic participation that IYWD does happens in rural, farming and mining communities of Zimbabwe. To many who do not know us, our work remains invisible. But it is work that we believe is shaking power at all levels in Zimbabwe. Making it a story worth telling, with the hope that it inspires many especially girls, young women and men to think differently about democracy. With support of the WMD, we documented the story of IYWD into a short film titled Girl Child.   The film has to date been translated into three different languages including Arabic and Spanish and been shown by our partners in different parts of the world. The film, has also become IYWD's prayer, to draw inspiration from, when repression from our government dampen our spirits.
Serving in the  Steering Committee of the World Movement for Democracy 
In 2015 I joined the World Movement for Democracy's Steering Committee. I will continue to serve in the board until 2020, and I am excited to be celebrating the movement's 20th anniversary in that position. Just like many of us are seeing today, democracy and democracy promoters remain under threat across the world. But seeing young people, women, democracy activists, practitioners and intellectuals all coming together from all over the world in support and solidarity with each other, I have no doubt that democracy  will eventually win.  It is my belief that when young people and women win, democracy wins, and when democracy wins, young people and women will also win.
Happy 20th Anniversary World Movement for Democracy!!!
---
---
Region:
Africa
|
Topic:
Women, Youth