Participant Story: Kim Campbell
February 28, 2019
Network Update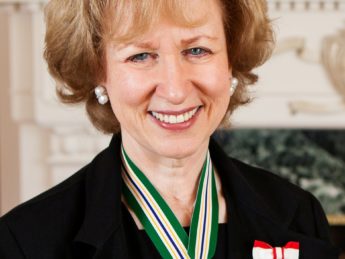 © 2012 Simon Fraser University. Some Rights Reserved.
Written and submitted by Right Honourable Kim Campbell, 19th Prime Minister of Canada
Almost since the National Endowment for Democracy was created, I have been a fan of its various organizations. In 2006, I had the opportunity to speak at the opening ceremony of the World Movement for Democracy's global meeting in Istanbul. I shared the platform with no less than Anwar Ibrahim and Turkey"s new President, Tayiip Erdogan. Little did I know that within a couple of years I would be serving as the Chair of the WMD's Steering Committee.
I always felt like a bit of a fraud in that group since the other members were all front-line fighters for democracy in countries where democracy was either struggling to get established or under serious threat. I, on the other hand, as a Canadian, returned to a "peaceable kingdom" after our meetings, threatened by nothing more serious than the "slings and arrows of outrageous journalists!"
As a post World War II Baby Boomer, a daughter of two war veterans, a  Soviet specialist and a lawyer, I had many perspectives from which to understand and appreciate democracy. Imperfect though it is, I believe democracy still provides the best opportunity for individual self fulfillment and freedom. The rule of law is one of the greatest conceptions of human society, but like all the other keys to democratic governance, is always under threat by those for whom democracy is a barrier to their aspirations for wealth and power.
I have always felt a great debt of gratitude to those who have put themselves on the line to champion democracy.  My seven years as Chair of the WMD Steering Committee enabled me to work with extraordinary men and women from around the world whose risks and sacrifices for democracy moved and inspired me. At the global meetings in Jakarta, Lima and Seoul during my tenure, I saw how important solidarity among civil society organizations and activists -supported by opportunities to engage with truly extraordinary experts and role models from around the world –was and is to preserving the values of democracy.
Recent developments show us that the struggle never ends and the obligation to support all those who work and fight for a democratic future  is as powerful as ever. I treasure my time with the WMD and was honoured to meet and work with some of the finest, bravest and smartest  people in the world. Congratulations to WMD on your 20th Anniversary – the world needs you.
---