Congolese Authorities Crackdown on Human Rights Activists 
October 6, 2017
Alerts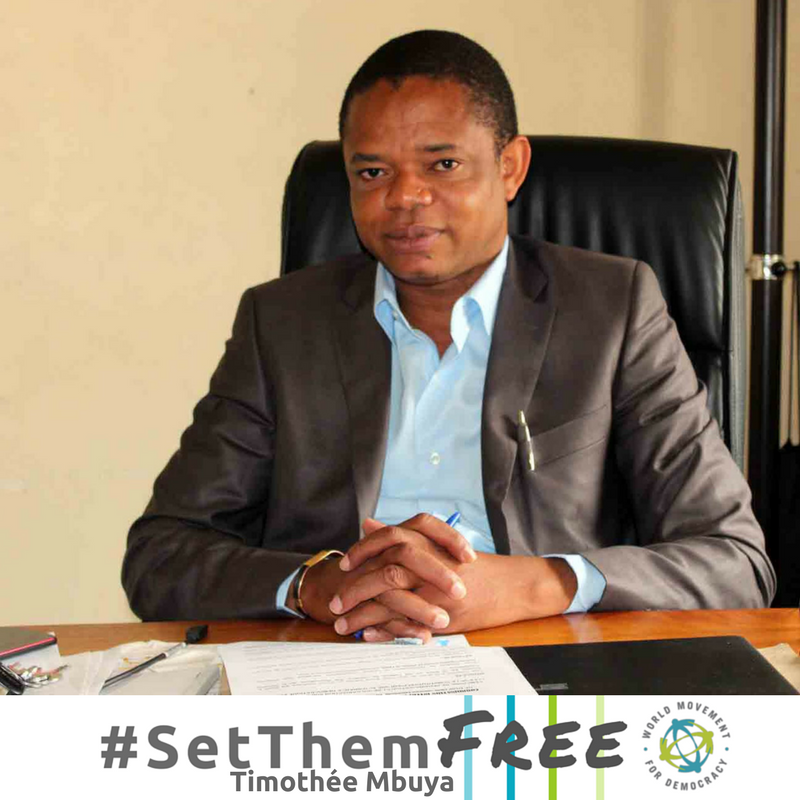 Detained Congolese activist Timothée Mbuya, president of the human rights organization Justicia, has now spent over two months behind bars for participating in a peaceful protest on July 31, 2017. Mbuya was arrested alongside four other activists in Lubumbashi, Democratic Republic of Congo. While Mbuya's trial is still pending, the other four activists lost their appeals on September 24, and were sentenced to eight month in prison on charges of "provocation" and "inciting disrespect for public authorities." Mbuya faces similar charges and a possible prison sentence of up to five years.
Since January 2015, the state security apparatus has been cracking down on activists campaigning for democratic elections. In July 2017, security officials specifically targeted activists such as Mbuya, who was involved in the nationwide protests calling upon the independent national electoral commission (CENI) to publish a calendar for the presidential, legislative, and provincial elections. The publication of the calendar would effectively set a timeline for the democratic transition of power. In total, 128 activists, as well as 11 journalists who were reporting on the protests, were arrested.
Although DRC President Joseph Kabila's presidential term ended in December 2016, the Congolese government failed to hold elections to choose his successor. A 2016 "New Year's Eve Political Agreement subsequently extended his term by one year, and stipulated that presidential elections must be held by the end of 2017. According to the Agreement, an electoral calendar must be published by CENI no later than three months in advance of the elections, or by September 30, at the latest. No such calendar has emerged. Given the uncertainty over the electoral calendar and the president's future, civil society feels compelled to continue organizing peaceful protests.
The government's harassment of civil society is a flagrant violation of its citizens' rights to freedom of assembly and expression. The CENI's failure to publish the calendar is not only an infringement of the terms of the political agreement, but also a major obstacle to the organization of credible elections.
The World Movement for Democracy joins Congolese civil society in urging Congolese authorities to unconditionally release Mbuya and all other detained pro-democracy activists in the DRC. Additionally, the government must create an environment for credible elections to occur. Join us in sharing this solidarity tweet!
---
Region:
Africa
|
Topic:
Freedom of Association, Freedom of Expression, Human Rights